Functioning of a electric bike
Editor : the August 18, 2016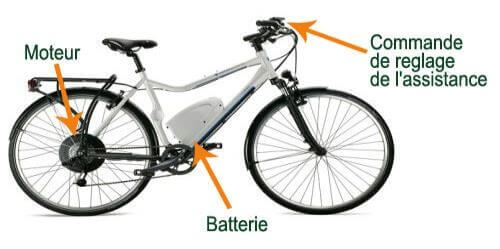 The electric bike called a Bike or Electric assist V. A. E does not work like a motorcycle, the electric bicycle does not roll alone, but assisted by human effort. This is the pedal that causes the electric motor and aid to more than 80% the user in his effort.
This mode of operation is imposed by the French legislation, you will find in other countries, some electric bicycles to attend 100% and that works like a motorcycle.
The starting pedal is mandatory according to the French legislation for the V. A. E is considered as a cycle and not a moped. It must also meet other requirements for a V. A. E is considered a bicycle and not a moped :
The engine should be triggered as soon as there is human effort and must stop when the user stops pedaling ;
The engine must not exceed 250 Watts of power ;
As soon as the speed of 25 km/h is reached, the engine must stop.
An electric bicycle is equipped with an engine of 180 to 250 Watts, and a battery 24 or 36 Volts. To assist pedalling, the electric motor switches on automatically when you pedal. He cut himself off when the pedaling stops.
This allows you to arrive with little effort at a speed of 25km/h, and climb uphill very easily. To recharge the battery, it plugs into a power outlet, a classic home or office.
Normally, the level of assistance the electric motor should be able to adjust, whether we choose to be strongly assisted in the move or not. The battery on it can normally be recharged with an electrical outlet, at home or at the office.
The electric bicycle is a conventional bicycle to which are added:
- an electric motor which can be located in the front or rear wheel, crank, and sometimes deported by belt. The law limits its power to 250 watts and speed up to 25 km/h,
- a battery which, depending on the technology used, brings an autonomy more or less important. A battery charger is provided for the power sector.
- an electronic controller that can regulate the different components (built into the battery pack on the picture)
- a control box on the handlebar, which is not necessarily present according to the models, and which allows the user to modulate its assistance, to know its mileage...