An electric bike : what is it ?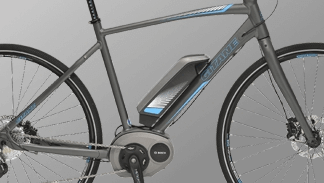 It is a classic bike, to which are added:
An electric motor which can be located in the front or rear wheel, crank, and sometimes deported by belt. The law limits its power to 250 watts and speed up to 25 km/h.
A battery which, depending on the technology used, brings an autonomy more or less important. A battery charger is provided for the power sector.
An electronic controller which can regulate the different components (built into the battery pack on the picture above).
A control box on the handlebar which is not necessarily present according to the models, and which allows the user to modulate its assistance, to know its mileage...