10 tips against the theft of electric bicycle
Always attach his bike
This first rule may seem a bit silly, but it is obligatory to always secure his bike when you're not on it. Even to buy the bread in your neighborhood, even to go up to take something from you, even if you deviate from your bike for 30 seconds. Just leave her bike in the eyes for a few moments for someone rises above , and that vou no revoyiez more your expensive frame.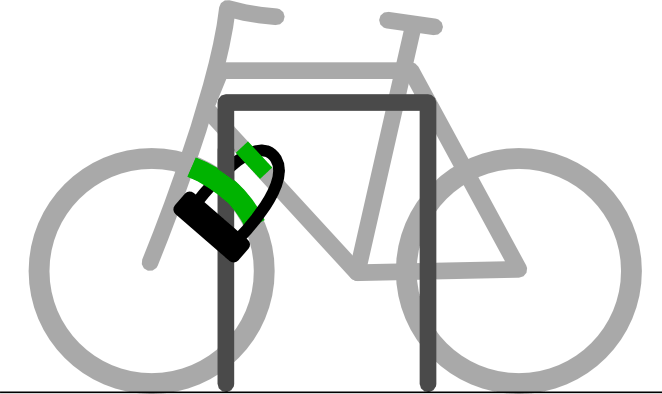 2 - Have a good anti-theft
Some time ago, I explained how to choose a good lock for your bike. As a reminder, there is the " rule of 10 %" . It calls for investing approximately 10 % of the amount of your bike in a locker. In practice, a good anti-theft that is-what it is ? It is a U-lock, possibly with a key, solid , and properly noted by the FUB. Absolutely avoid the anti-theft cable or in a spiral, they intersect in a few seconds with a small pair of pliers.
3 - Attach his bike to a fixed point
A bike that is not attached to a fixed point is a bike that may be stolen very quickly. Beautiful you have the best anti-theft, if it does not connect securely to your bike to a fixed point (barrier, ark, home, etc) there are great chances that your bike will disappear. It will suffice simply to a passing bad guy to lift the bike, loading it in his car, and cut your lock at home, to the shelter of the glances.
4 - Ask the correct anti-theft
Have a good lock, it's good. The pose correctly, it is better ! Thus, if you attach only your front wheel on a fence, you might not find it. You have already had a glimpse of the wheel (or a part) was still attached to a barrier.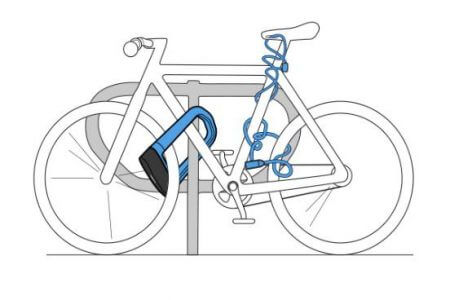 To correctly attach your padlock, you must get your " U " in the front wheel (or rear), in the framework of, and in a fixed point. If you have an accessory-style " security cable lock ", please do not hesitate to add it to protect the second wheel.
If you think that this is not enough (or that you have a very nice bike) you can also add a second lock. Certainly, it is heavy, but it is also very deterrent of having to remove 2 anti-theft different to steal a bike.
5 - Find the proper location
If you park your bike in town, try to find a place that has a fixed point, but that is also a place of passage frequented. Plus there will be passage, the less it will be easy to steal a bike without anyone intervening.
As well, avoid streets with little traffic, or even the garage of your apartment building : there is so little traffic that the thief will feel at ease to remove your anti-theft quietly (and I speak knowingly, because I am made to steal a bicycle in my garage).
6 - Keep an eye on his bike
When you have to park your bike for a few minutes or a few hours, it is more reassuring to be able to keep an eye on his bike. When I go out for a drink with my bicycle, I like to be able to monitor it from time to time. It is more to reassure me, but I tell myself that I could intervene if someone decides to look at it a little too close...
7 - to Return his bike
If you can't park your bike outside, I would advise you simply take it with you : among you, among your friends, or even directly from a store while you shop !
Since I am robbed of my bike in my garage, I have confidence anywhere. Therefore,I chose to return my bike all night in my apartment, second floor without lift. This is not great, but I've managed to find a small place. More risk of theft and more, not even need to attach it ????
8 - Use anti-theft U-shaped with Alarms
There are recently several manufacturers of anti-theft bike that were put on the market anti-theft with alarm, as soon as the bike is moved for more than 5 seconds an alarm will sound. This is one of the most dissuassif. The price of lantivol with alarm is barely more expensive than a anti-theft classic !
9 - Do not use quick fasteners
Most bikes have quick fasteners for the wheels or the saddle. They are certainly very handy when you need to tinkering with his bike faster, but it is clearly of the blessed bread to the thieves.
This kind of hitch allows you toremove in a few seconds a wheel or the saddle of your bike, and therefore walk away with quietly without anyone that I could intervene.
There are quick fasteners anti-theft (it is necessary to return the bike to unscrew them, which is impossible to do when it is attached to). However, the returns are rather mixed on this subject.
10 - Use of accessories anti-theft
There are dozens of accessories to prevent theft of your bike. I recently invested (a few euros only) in an alarm that fires if the bike is moved. This will benefit me only during my cycling trip when my bike will be outside during that I will sleep in my tent.
There are also tracers GPS to hide in your bike for the track once it is stolen. Currently, this is not yet very to the point, because the battery does not last very long and it is a device very expensive. However, some systems promising begin to see the light of day in some countries, using triangulation